Lori's Description


Happy Birthday, World: A Rosh Hashanah Celebration

By Latifa Berry Kropf
Rosh Hashanah comes to life when a little boy celebrates the birthday of the world as he would celebrate his own birthday! At this birthday party he enjoys apples and honey, holiday candles and the blowing of the shofar.


Description from Publisher


This board book does an excellent job at relating Rosh Hashanah into terms that a child can understand: a birthday. The book talks about how both involve candles (but at this birthday, the candles are not blown out), gifts (but at this birthday, tzedekah is given), and so on. Bright illustrations enhance the text. A wonderful resource for toddlers and preschoolers!


Lori's Description


Sophie and the Shofar

By Fran Manushkin
Two cousins, Sophie and Sasha, play and work together until a missing shofar comes between them. This is a heartfelt story about two young children that incorporates many High Holy Day themes, including blowing the shofar and attending synagogue. Bright, richly detailed illustrations capture the liveliness and real-life emotions of Sophie and Sasha as they learn about forgiveness, love, and saying "I'm sorry" during Rosh Hashanah.


Description from Publisher


When Sophie's cousin Sasha moves next door from Russia, Sophie has to teach him a lot of the customs surrounding the holiday of Rosh Hashanah. When Sophie's father practices blowing the shofar, Sasha immediately wants to try but is told that nobody is allowed to use the family heirloom. When the shofar disappears, Sophie immediately accuses Sasha of taking it. When the identity of the culprit is revealed on Rosh Hashanah morning, Sophie learns an important lesson about asking for forgiveness. This picture book perfectly demonstrates the themes of the High Holidays in terms that are in terms that young children can easily understand. Fran Manushkin did a wonderful job capturing the mindset of children, and young readers will be able to easily relate to the characters. An excellent choice for reading aloud with preschoolers.


Lori's Description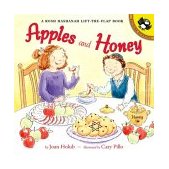 Apples and Honey

By Joan Holub
Rosh Hashanah is here and it's the beginning of a new year. There are so many exciting things to do! The children make New Year's cards to send to family and friends, they go to temple and hear dad blow the shofar, and after a delicious dinner they dip apples in honey and hope for a sweet new year. This book provides a perfect way to begin teaching young readers about the meaning and traditions of this special holiday.


Description from Publisher


Holub focuses on two siblings' preparations for and celebrations of Rosh Hashanah. They pick apples, make cards, go to Temple, listen to the shofar, and eat a special dinner. The text is simple and conversational. The bright cartoonish illustrations are simple enough not to be overwhelming, yet are detailed enough to allow children to find something new every time. The flaps are quite sturdy and should be able to stand the test of time with most preschoolers. A brief introduction to the holiday of Rosh Hashanah is included in the beginning and a glossary and Rosh Hashanah craft are included at the end of the book. A wonderful read-aloud book for toddlers and preschoolers.


Lori's Description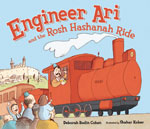 Engineer Ari and the Rosh Hashanah Ride

By Deborah Bodin Cohen
Awards: 2009 Sydney Taylor Honor Award

Engineer Ari's train is coming to Jerusalem collecting goodies along the way to celebrate the Jewish New Year. During his journey across Israel, he learns an important lesson about friendship and forgiveness. A sweet and creative Rosh Hashanah story based on the first historical train ride from Jaffa to Jerusalem in 1892.


Description from Publisher

The year is 1892 and Engineer Ari is in charge of driving the train on its first trip from Jaffa to Jerusalem. His pride becomes boastful as he brags to his friends about his important job. As he drives the train through Israel, he collects gifts along the way, including apples, honey, and loaves of round challahs. But his joy is tempered with guilt for having mistreated his friends. As Ari approached Jerusalem with all the Rosh Hashana treats, he remembers that during Rosh Hashana and Yom Kippur it is time to do teshuvah, and decides to drive the train back to his friends to apologize. Kids and trains are a natural combination and the picture book medium is perfect for telling a story of this important time in Israel's history. Without being didactic, Engineer Ari and the Rosh Hashanah Ride teaches youngsters about the importance of kindness, personal responsibility, and forgiveness. Bodin Cohen has not only recreated an important historical event, she seamlessly connects the event to an essential aspect of Judaism. The illustrations capture the essence of various locations throughout Israel. The color palette subtly shifts with each locale, but the train is bright red throughout. The double spread illustration of the train approaching Jerusalem is particularly lovely. An author's note provides background information about the train, which will be of interest to teachers and students. Overall, a wonderful ride for pre-school and primary students, and school libraries.


Description from Jewish Book World Magazine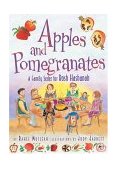 Apples and Pomegranates: A Family Seder for Rosh Hashanah

By Rahel Musleah
Enjoy a Sephardic Rosh Hashanah seder observed throughout the world. This special service incorporates blessings, songs, and folktales relating to eight foods that symbolize prosperity, fertility, and peace. Traditional holiday recipes are included.


Description from Publisher



K'tonton's Yom Kippur Kitten
It's the day after Rosh Hashanah and a hungry kitten appears on K'tonton's doorstep in search of food. K'tonton begs his mother to give the kitten some milk, and then every day the kitten returns for more. But a kitchen mishap presents K'tonton with a sticky problem as he is preparing for Yom Kippur. In K'tonton's Yom Kippur Kitten, children experience the holiday's true message--and enjoy our endearing thumb-sized hero and his feline friend.


Description frm Publisher


K'tonton, the Jewish Tom Thumb, is back for another adventure that is sure to excite children of all ages. During Rosh Hashanah K'tonton's family feeds a stray kitten. When K'tonton accidentally spills all of his mother's honey jar, she notices the kitten's pawprints and blames the kitten. K'tonton doesn't correct her mistake and his mother won't give the kitten any more milk. When Yom Kippur approaches, K'tonton learns what the real meaning of Yom Kippur. K'tonton is one of the classic characters in Jewish literature and it is easy to see why. The storytelling is conversational and perfect for reading aloud. The simple sketch drawings give the story a timeless feel. Overall, a superb choice for family reading every year!


Lori's Description


Please note that K'tonton's Yom Kippur Kitten can also be found in the The Best of K'tonton collection


Happy New Year, Beni
Awards:
American Bestseller Pick of the Lists



As a family of anthropomorphic bears celebrates Rosh Hashanah, Beni is teased and tricked by his cousin until their grandfather reminds them of what the holiday is all about. The book, illustrated with overly sweet artwork, includes some background about the holiday and a recipe for Round Raisin Challah


from Horn Book




The World's Birthday : A Rosh Hashanah Story
Intrigued by the idea that Rosh Hashanah is the birthday of the world, Daniel is determined to have a party - with a cake and candles - for the world. His sister scoffs, You can't have the party without the guest of honor.'But when his guests arrive, Daniel takes the cake and leads everyone outside under the stars. The illustrations have a lovely childlike quality.

Sound the Shofar : A Story for Rosh Hashanah and Yom Kippur
With her uncle's blowing of the shofar, the high point, a little girl describes the goings-on during Rosh Hashanah and Yom Kippur. Her mother lights the candles, her father blesses the wine, they eat apples dipped in honey, and they spend the day "in prayer and thinking." Using a bright rainbow of colors and outlining his shapes in ink, Himmelman depicts a happy family at home and in the synagogue. Warmth and renewal are the message here, delivered with minimal detail and a few comic touches, mostly involving the family's cats.


from Booklist , October 1, 1998



The Hardest Word:
A Yom Kippur Story

By Jacqueline Jules
The Ziz, a wonderful bird who lived long ago, is so big and clumsy that he can't keep from bumping into things. When a tree he knocks over destroys the children's garden, he seeks G-d's help to fix things. "Bring me the hardest word," G-d instructs him, and the Ziz flies off to search. He brings back "goodnight," (a word children find hard to hear), "spaghetti," (a word children find hard to pronounce) and words like rhinocerous, rock, and Rumplestiltskin, but none is acceptable, until....

A classic folktale that illustrates the important of forgiveness. With brilliant pictures sure to make the Ziz a classic folk hero.


Description from Publisher


When the Chickens Went on Strike

By Erica Silverman

Based on a Tale By Sholem Aleichem
One Rosh Hashanah, a boy overhears some chickens planning a strike. They are sick of being used for Kapores, the New Year custom in which people swing a live chicken over their heads, hoping to erase their bad deeds. When all of the chickens run away, the women try to coax them back with grain, the men try to get them back with force, and the rabbi tries to negotiate. Finally the boy pleads, "Without Kapores, I will never be able to make my papa proud." A chicken responds, "Boychick, for this you need a chicken?" This amusing and telling story about wise chickens and foolish villagers will be enjoyed by anyone who has ever wanted to be a better person.


Description from Publisher


In this retelling of a Shalom Aleichem tale, the narrator explains, "Customs come and customs go. [He] learned this from chickens." The custom he is referring to is Kapores, the Rosh Hashanah custom where chickens are waved over everyone's heads to erase their bad deeds. One day, after being sent outside for misbehaving during in synagogue, a boy overhears the chickens planning to strike. The men and women each have different approaches to get the chickens back, but to no avail. The narrator's plea and the chicken's response will help children understand that they (and not a chicken) are responsible for their own behavior. The conversational tone of the story will make this accessible to all children. An excellent read-aloud choice.


Lori's Description


Gershon's Monster

By Eric Kimmel
In this Rosh Hashanah story, Gershon the baker has a big lesson to learn about taking responsibility for his actions. Through the tale's poignant metaphor, readers learn about responsibility and forgiveness.


Description from Publisher


This retelling of a Hassidic legend tells of the importance of t'shuvah or repentance. Gershon commits the same minor sins that everyone does, but he never regrets what he did. Instead, he dumps them in the ocean every Rosh Hashanah and forgets all about them. After Gershon and his wife are blessed with twins, he learns how his sins can come back to haunt him in an unusual way. Eric Kimmel shows yet again why he is one of the premier Jewish storytellers. His conversational style makes this story accessible for even the youngest child.


Lori's Description

High Holiday Fun for Little Hands
Simple craft, coloring, and activity pages help explain the high holidays to young children. Count the shofars and Torahs, make a round challah cover, play with holiday symbol cards. With full-color greeting cards reading to sign and send.


Description from Publisher


Avram's Gift

By Margie Blumberg
Mark thinks that his new home is perfect in every way — except one: Leaning against the wall in the hallway outside his bedroom is a picture of a man with a long, gray, scratchy-looking beard and dark, mysterious eyes. It's a picture of his great-great-grandfather Avram, and Mark doesn't like looking at it one bit. Who was Avram? And was he really as stern as he looks in that photograph? One special Rosh Hashanah, Mark learns the answers to these questions from his Grandpa Morris and discovers Avram's gift.


Description from Publisher


How the Rosh Hashanah Challah Became Round
Yossi family owns a Challah bakery. But Yossi's terrible tumble turns out to be a terrific triumph! A tale with year-round appeal!


On Rosh Hashanah and Yom Kippur
The two most important holidays of the Jewish calendar are described in warm and respectful prose by a young girl who observes the high holy days with her family. The mixed-media illustrations in autumnal tones extend the narrative and add to the sense of celebration in the text. A pronunciation guide is included.


Description from Horn Book

More than just a description of the Jewish New Year holidays, this book tells the story of one family's celebration through the eyes of the youngest daughter. It is this young narrator who tells not only about her family's rituals and their religious significance; but also of her feelings about the celebrations and how they help bring her closer to G-d. The sepia tone collage illustrations match the mood of the book perfectly and somehow provide a comforting sense of universality to this thorough description of one people's important holiday. The appended glossary will help readers of all ages decode and understand the unfamiliar Hebrew words used in the text.


Description from Children's Literature

Rosh Hashanah With Bina,Benny and Chaggai Hayonah

By Yaffa Ganz
Let's join Bina and Benny and their winged friend Chaggai the holiday dove on a fun-filled adventure. They will tell us all about Rosh Hashanah, the shofar, teshuvah, the apple dipped in honey and many other holiday customs. And we will learn about them in a warm and witty way.


Description from Publisher


Days of Awe:
Stories for Rosh Hashanan and Yom Kippur
Three well-crafted retellings focus on the pillars of the Jewish High Holidays: charity, prayer, and repentance. A samovar left with Rivka by the prophet Elijah begins to shine as she performs her ordinary acts of charity; she and her husband realize that their good fortune is a blessing that allows them to help others. A shepherd's simple but heartfelt prayers are silenced by a scholar who deplores their informality, but G-d sends an angel to show the shepherd that his prayers resound in Heaven. A famed rabbi unthinkingly offends a beggar who then refuses to forgive him; the rabbi's gentle daughter convinces the beggar that forgiveness will lift his burden of bitterness. Weaving these universal tales about approaches to G-d with just a few, well-chosen words, Kimmel deftly uses wise but humble characters to convey his message and sets them in various locales: a shtetl, C¢rdoba in Moorish Spain, the Holy Land. The characters' simple lives are effectively depicted in Weihs's folk-inspired art, though there are some discrepancies between the details and text. A fine addition to the body of Jewish folklore. Introduction on the significance of the High Holidays; notes to the stories.


Description from Kirkus Reviews


Rosh Ha-Shanah and Yom Kippur
(Building a Jewish Life)
Joel Lurie Grishaver uses a photographic and text essay to communicate the essence of the High Holidays.

The idea of a spintual new year is compared to the beginning of a new school year. The combination of excitement and fear over the coming year is defined as 'awe.'

The shofar is like an alarm clock; it wakes us up and demands that we pay full attention. Isaac Axama teaches us that each of the four calls has a different sound. One sounds like a shout; it cheers a person on to do befter. Another sounds like crying; it voices the sadness in the things we have done. The third sounds like a groan; it is the sound made after trying to lift something heavy—it reminds us that there is much work to be done.

Atonement is defined as being "at one" with God. Just as a bathtub can remove the dirt and return you to your original state, Yom Kippur returns you to being "at one" with God.

A bow and arrow explain t'shuvah, repentance. A hatat is when we "miss the mark" and don't hit the target. T'shuvah is when we recognize our mistakes, say that we are sorry, and change forever. it is fixing the places where we have "missed the mark."

Worksheets for the classroom, exercises and stories to be done and read with parents, plus included parents' and teacher's guides complete the volume. Here is a classroom teaching resource which makes a direct connection with the home.


Description from Publisher


The High Holidays

(Board Book)

By Camille Kress
Introduce your child to the symbols and themes of the High Holidays and Jewish autumn festivals. A Brand New Year is hte fifth in the series of Jewish holiday board books by Camille Kress. Using her renowned watercolor illustrations and engaging poetry, Rosh HaShanah, Yom Kippur, Sukkot, and Simchat Torah are all introduced to the young child.


Description from Publisher


Apples and Honey:
A Rosh Hashanah Story

By Johnny Zucker
Rosh Hashanah is the autumn holiday when Jewish families combine religious worship with festivity to celebrate the Jewish New Year. This story's family visits their synagogue where the Shofar is blown to encourage the congregation to perform good deeds in the new year. Later, at the family table, the kids share apples and honey with Mom and Dad. This delightful picture book depicts a typical Jewish family as they celebrate one of the year's most important holidays. The traditional warmth of the Jewish holidays are reflected in cheerful and attractive little stories that speak not only to Jewish children but to boys and girls of all faiths. On the last two pages of each book, the traditions and meanings of the holiday are summarized for parents to relate to their children. There are attractive color illustrations on every page.


Description from Publisher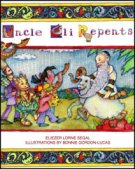 Uncle Eli Repents:
Rosh Hashanah and Yom Kippur Prayer Book

By Eliezer Segal
The author of Uncle Eli's Special for Kids Most Fun Ever Under the Table Passover Haggadah is back!! This time, Uncle Eli brings his Seussian style to the High Holiday Mahzor. Eliezer's poem bring the complexity of the High Holiday service to the level that any child would love. Some of his poems include "Hinneni", "Malkhuyot, Zikhronot, Shofarot", "Kol Nidré", "I did it! I'm Sorry!", and "The Closing of the Gates"

Description by Lori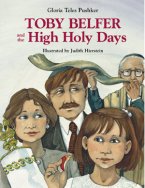 Toby Belfer and the High Holy Days

By Gloria Teles Pushker
Help one another. Say you're sorry. Toby remembers what her rabbi said in his sermon for Rosh Hashanah, and she plans on being a good citizen, giving charity, apologizing for anything that might have hurt someone, and helping others. After saying "sorry" to her best friend Donna, Toby helps her understand all of the customs involved with the Jewish New Year. Before sharing Gram's recipe for Honey Cake, Toby realizes that by retelling the story of Rosh Hashanah and Yom Kippur, she learns a lot herself.


Description from Publisher


Toby Belfer is a young Jewish girl growing up in the South. When she returns from Rosh Hashanah services, she takes her Rabbi's sermon to heart and reflects on what she has done over the past year. She is sorry that she didn't apologize when she accidentally hit Donna during a soccer game, she decides to read DOnna's younger brother some books to make up for calling him a name, and she apologizes to God for getting angry at the death of her grandmother. As Toby explains the customs of Rosh Hashanah and Yom Kippur to her non-Jewish friend, Toby realizes how wonderful the High Holidays really are. Includes a glossary and a honey cake recipe. An excellent choice for reading aloud to Jewish or non-Jewish audiences.


Lori's Description

Also in the Toby Belfer Series:



Rosh Hashanah and Yom Kippur (Rookie Read-About Holidays)

By David F. Marx



The Magic of Kol Nidre : A Story for Yom Kippur
Kol Nidre, the opening prayer of the Yom Kippur evening service, is chanted three times, first softly, then a little louder, then very loudly. In this book, the narrator explores the reasons for the repetition and searches for the "magic" of Kol Nidre. Three times he gives possible explanations-once when he is a boy with his grandfather, once as a new father holding his baby daughter, and finally as an old man with his grandson. Each time, the narrator has a different insight into the prayer. In the final scene, he discovers that the magic of Kol Nidre is the way that it brings all types of Jews together once a year. Each double-page spread features a realistic watercolor that depicts the scene as well as a stained-glass column (also watercolor) that reflects the ideas of the text. This is an excellent discussion starter for religious schools.


Description from School Library Journal


Create Your Own Jewish 2003-2004 Calendar

By Susan Fischer Weis
This fun and educational calendar covers the Jewish year 5764, from September 2003 through September 2004. It allows children to express creativity while keeping track of secular, religious, and personal holidays and events, through coloring projects and nearly 200 full-color stickers. Months are presented in both Hebrew and English, and simple lessons of Jewish culture and tradition are integrated with fun projects like drawing, crafts, and cooking.


Description from Publisher

Shofar That Lost Its Voice

By David E. Fass
While trying to find the reason why his shofar doesn't work, Avi has a magical adventure that teaches him the true meaning of Rosh Hashanah.